Let's take one more step in the world of creative design with advance and optimized website design. A design is the first impression for your audience and there is a need to optimize the Website for every device. Because lots of audiences are only available on mobile, so your business website should be Mobile Friendly. Responsive web design is a must nowadays for all devices. Given the increasing number of people using their smartphone devices to do research before purchasing a product as well as to catch up on the latest news, your business can't afford to have a non-responsive website.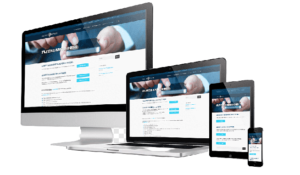 Responsive Design "Need of Today Business'
The need for smartphones is increased over the past 10 years. The rapid increase in demand for mobile phone users changes the scale. So, it's important to make your Business Website Design responsive, as this is the interface between you and your customers. Let's talk about some main Responsiveness points.
Learn How Your Visitors Use Mobile
You should build the mobile site first for visitors, and then rule up to build the desktop and tablet designs of the website. Today mobile friendliness is one of the main concerns to make your website responsive. Your Content and design must be optimized according to device size. Choose the appropriate size for text also.
Make Your Design First
Make planning as your priority as we all know that planning is a must in every work execution. Design it and find out how your online website will look like. After that, you can customize your template and integrate anything if required. Planning for design gives you an idea regarding your first layout.
Highly Optimize Images
When you are working on responsive design, make sure your images must be optimized to look at your website great. You can use JPEG, JPG, PNG format and try to optimize it first. Try not to use PNG, as it can expand your file sizes by 5 to 10 times. Make sure your image should be exact sizes (i.e. 500x350px at 100ppi) and custom image dimensions to make a match.
Role of Speed
Speed optimization plays an important role in responsive design because slow speed is a major drawback. A new study on google clears that 58% of responsive websites load anywhere from 4-8 seconds. This length of loading time was acceptable in 1997, but in 2015 to till, 79% of Mobile users expect a website to load in under 4 seconds.
Important Points: –Try to avoid decorative or cursive fonts for body content or menus as they are hard to read on small screens.
Make your website design responsive
Add useful Content for Customer Engagement
Always Test your Snippets code
Read Advanced Google Design Standards and Updates
Parallax Scrolling
A responsive website is a need for every business. All of the audience are available on mobile so make sure your website will be responsive as per your design, text, and style. Follows the above mention points and make your website more search engine friendly.